Governors Ball 2023 is gearing up to be a can't-miss festival for anyone living in the Northeast: With performances slated from mega-stars Lizzo, Kendrick Lamar, Odesza, Lil Nas X, Diplo, Lil Uzi Vert, Lil Baby, and Kim Petras, Gov Ball is a must-see on the weekend of June 9-11 in beautiful Flushing Meadows Corona Park in Queens, New York!
Watch: "Gov Ball 2022, A Moment"
---
T

he beauty of Governors Ball lies in the simplicity of having only three stages, yet including a massive lineup.
You will get the rare opportunity, at least when it comes to major festivals, to watch most of the artists you paid to see.
No more making the hard decision of whether you should see your favorite up-and-coming indie pop-trio or your favorite rapper. The three stages are all within Corona Park, a beautiful park with ample shading (Thank God), allowing you to easily rotate between stages while staying cool and enjoying some beautiful nature and world-class artists.
The lineup is insane, that's been established, and we'll talk about it soon. But first, we must mention all the pop-ups and brand activations to keep an eye out for this year.
Check out the live DJ popups from Casa Bacardi, then maybe stop by for an afternoon darty in the Bud Light Backyard. But, if you're brave, you'll try to find the Red Bull hidden party.
"Red Bull Unforeseen" is a party within the party, hidden somewhere in the park. Friends, this party will be worth the hunt. It promises to show the essence of what it really means to be "A Real New Yorker."
Next check out the Coke Studio, Haagen-Dazs Mini Mart, and the Aperol Spritz Piazza.
There's so much to check out that it's almost overwhelming. Luckily, you'll have the entire weekend! Make sure to stop by the MLB Life Lounge, the About-Face Beauty Shop for festival makeup, and even the Blue Point Brewing Tattoo Bar for free semi-permanent ink!
In addition to the awesome side quests you can discover, we are hearing rumors that the food lineup this year is incredible. Everything from famous pizza shops to legendary donut stands.
Check out the full list of festival experiences at Gov Ball Beyond The Music and the full list of food and drink options at Gov Ball Tastebuds.
Now, for the real reason that this festival is worth a flight, long drive, and even boat ride across the Hudson River. Folks, this lineup is STACKED.
Here are the artists I plan on seeing this weekend, and why you should as well.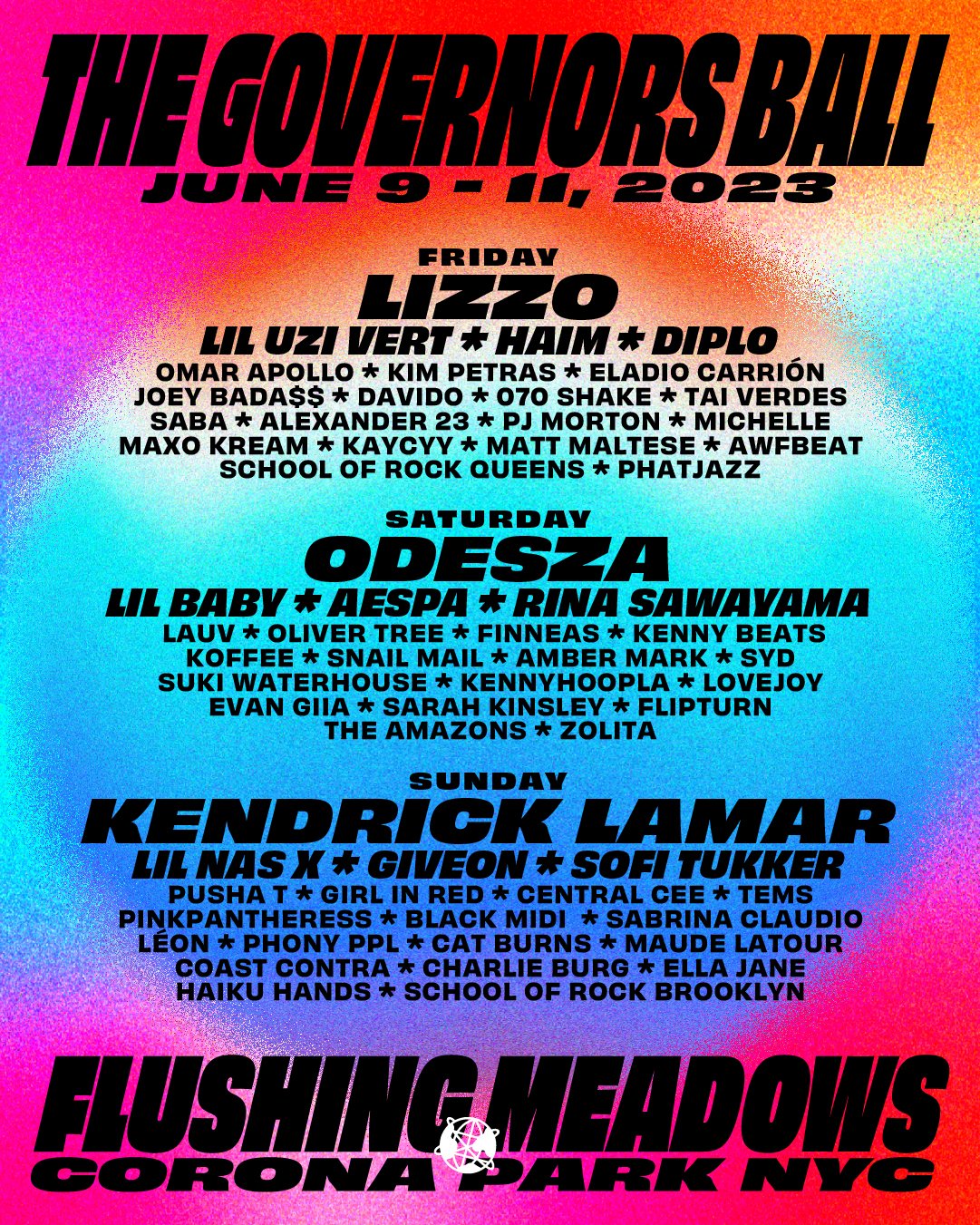 Friday June 9th
Starting off the weekend I will be running from the main gates straight to the Bacardi Stage for Matt Maltese's 12:15pm set. His ethereal songs are peaceful, comforting, and daring, all in one polished delivery. After coming off a big tour of the United States and Europe, Maltese delivered to his fans his fourth studio album, Driving Just to Drive. It's comforting and serene, and his Friday morning set will be the gentle wake up you need to get into the festival spirit.
Immediately following Maltese's set I will be strolling over to the GovBallNYC Stage for Saba's 1:45 showing.
His slow beats and introspective lyrics are chill and so easy to listen to. His song, Photosynthesis, is a great mix of lo-fi and hip hop. Calm and present in the moment, Saba brings his laid-back flow all the way from Chicago. I'll be vibing along before running over to the Bacardi Stage to check out Alexander 23, another Chicago product.
Performing at 2:30pm, Alexander 23 brings sad boy tunes to the center stage. Alexander 23 has been making the rounds as a producer and singer-songwriter for a few years now. The massive global hit "good 4 u" earned him a Grammy nomination for co-producing the 3x Platinum song. Get in your feels with the young artist before the intensity and partying picks up later in the night.
Here's the game plan for the rest of the night:
Thirty minutes of feel-good jams with Tai Verdes at the GoPuff Stage (set starting at 4:15) then head over to the GovBallNYC Stage for the unofficial biggest rave of the festival with Diplo at 4:45pm.
Tai Verdes' smash single "AOK" was arguably the summer anthem of 2021. When the world was gearing up to escape from isolation, Verdes slammed open the door with his upbeat message of positivity and groovy summer vibes. A must-see set, followed by Diplo's sure to be energetic masterclass on being a festival emcee. I'm also going to watch Joey Bada$$ for a while, or at least until he plays "Devastated" or "Temptation."
Friday evening at Governor's Ball 2023 is hands down, run by the ladies.
Starting at 5:45pm, with a set from Remi Wolf, straight into Haim, followed by Kim Petras, and finally, Lizzo closes out the night.
Remi Wolf, and her single "Disco Man", are going to be very fun to hear live at the Bacardi Stage. She brings a unique mix of breezy-groovy-electro to her songs and live shows.
Haim, the sister trio known for their powerful voices and confidence-filled lyrics, are playing the GovBallNYC Stage at 6:45pm. Immediately following is a sure to be fiery and bold show from Kim Petras at 7:45pm on the Bacardi Stage.
To close out night 1, Lizzo brings her dynamic energy and confident stage presence to the GovBallNYC stage at 8:45pm. Her set is a must see as she's been on top of the world the last year or so.
---
Saturday June 10th
I'm starting out Day 2 at the Bacardi Stage around 12:30pm for a wakeup call with rising indie-rock band flipturn. I just recently saw them at Hangout Festival in Alabama, and these young rockstars truly brought the energy back then.
After hanging out for a bit and exploring the park, I'm going to check out Suki Waterhouse at the GovBallNYC Stage at 2:00pm. Her set is sure to be chill and perfect for a picnic hangout. With striking and dynamic lyrics presented in a melodic and slowed-down tempo, this will be a great midday performance.
Arguably the most famous sibling at the festival, Finneas is going to bring a lot of intensity and introspection to his 5:30pm set at the GoPuff Stage.
I'm so excited to see his live performance. His lyrics are so genuine and vulnerable, almost diaristic. As if he is writing while deep in his own psyche, contemplating the mistakes along his journey. A truly unique artist in the modern day.
Plus, there's a nonzero chance that he's somehow convinced Billie Eilish to join him on stage.
At 7:30pm I'm sprinting to the barricades of the Bacardi Stage to get front and center for Lauv!
Is he a DJ? Indie-pop singer? in-your-feels sad boy artist? No clue, maybe all three, and then some. He truly has a unique sound in a cluster-filled world. His beats are amazingly happy, while his lyrics put you in your emotions, but in a good way. Like walking out of a therapy session with a breakthrough. Be there for Lauv, and he'll be there for you. Trust me.
To close out the night I'm going to rave with Odesza. Performing at 8:30pm on the GovBallNYC Stage, this is arguably going to be the most electric set of the entire festival. Global DJ powerhouse Odesza will set the night ablaze with their high-intensity original songs and whatever covers they come up with. These guys are pro's, simple as that. Global DJs coming to the Big Apple. A must-see set to close out the night.
---
Sunday June 11th
The dreaded last day.
Thankfully, Sunday closes out with a hotly anticipated show from the greatest rapper alive.
It's a bold claim, I know.
Sunday has a great lineup. I'll be starting out my day at the GovBallNYC Stage at 1pm for Charlie Burg. His groovy and melodic pop songs are a great refresher from a long night of partying. I'll be watching his set, then running over to check out Maude Latour at the Bacardi Stage starting at 2:30pm.
Her delicate, yet powerful voice brings a self-assured presence on the main stage every time she performs. Her hit single, "One More Weekend" is truly beautiful and will instantly become addictive on first listen. A set to watch.
After walking around and finding some of those brand activations and hidden pop ups, I'm going to check out Sofi Tukker at 5:45pm. The Grammy-nominated EDM duo will be playing on the GoPuff Stage to get the crowd pumped up. Their hit single, "Best Friend", was heard all over the world when Apple picked it up for their commercial unveiling the newest iPhone. Their House beats and high-voltage set is a must-see this year.
At around 7:30pm I'm jogging over to the Bacardi Stage for girl in red. I mean, she's opening for Taylor Swift on her Era's Tour. Need I say more? Go check out her set, I'll be there!
Now, the reason I'm flying all the way to New York.
At 8:40pm, on the GovBallNYC Stage, the king from Compton is performing.
Kendrick Lamar, the only rapper to win the Pulitzer Prize, and a "measly" 17 Grammy awards; this is going to be a masterclass. His live shows are known for spectacular productions and heated live renditions of the songs that brought him to the forefront of the world of hip hop. He is going to put on a clinic, and I highly suggest you cancel your Sunday night plans to ensure your attendance.
If you're considering going to Governors Ball just for one day, then Sunday is the day.
This is going to be an awesome festival. The Lineup is amazing and diverse, and the venue is perfect for a long weekend of listening to your favorite artists in a picturesque nature setting.
Check out Governors Ball 2023 and let us know who you're most excited to see!
— —
— — — —
 © 2023