London's Jadu Heart reckon with intimate inner struggles on third album 'Derealised,' a cathartic and vulnerable dream pop record that journeys from hopelessness to hopefulness – out of the darkness and into the light.
Stream: "Cocoon" – Jadu Heart
---
J

adu Heart have been going through it lately; haven't you?
From the distance and isolation brought on by the pandemic, to the jarring changes so many of us experienced coming out of it, to the natural ebbs and flows of life itself, we've all been put through the wringer these past few years – challenged mentally and emotionally in more ways than we ever could have imagined, way back at the top of 2020. Jadu Heart's third album is a product of that universal, yet achingly intimate turbulence. Mayo Clinic defines "derealization" as the sensation of feeling "alienated from or unfamiliar with your surroundings, like you're living in a movie or a dream," feeling "emotionally disconnected from people you care about, as if you were separated by a glass wall," and feeling distortions in your sense of time, distance, size, and shape. The band openly reckon with inner struggles on their new album Derealised, a deeply cathartic and vulnerable dream pop record that embarks on a journey from hopelessness to hopefulness – out of the darkness and into the light.
Sun follow behind  
Deep in mind, i play the credits  
Walking all the way  
Fallen disgrace, blowing my head off  
Shotgun to the face 
Is this the place, that I will end it 
Cause broken and sore  
Ripped from the shore  
I hear the cries of god  
Bee buzz in my mind,  
Sting me and fire, burn in my rat brain  
Claws open and force  
Me to face off, with all my mistakes  
Leave me in the dream  
Happy to be, naive and cheerful  
Something in your eyes 
Crawls up and dies  
As you leave youth behind  
I feel I'm in the womb  
Waiting for all the doom  
To fade away, lord give me faith  
To keep my mother safe  
To keep my father sane  
All bathed in love, she shines above  
– "Cocoon," Jadu Heart
Released January 23, 2023 via VLF Records, Derealised is the soul-stirring third album from Jadu Heart: A soundtrack to inner upheaval and turmoil that reminds us not only that we're not alone in our hardships and struggles, but also that there's always a way through, even if it doesn't feel like there is at the time; the light is always there, waiting for us to find it and latch on. The London-based dream pop / shoegaze duo of Diva-Sachy Jeffrey and Alex Headford, Jadu Heart have been a rising force in the British alternative scene for the better part of the past seven years. Their music has transformed considerably over the course of their career, but through and through it remains an enchanting force through which the pair explore their world with a critical and contemplative lens.
The follow-up to 2020's Hyper Romance, Derealised dances on the boundary between light and dark as Jadu Heart deal with the volatile emotional roller-coaster that has been the 2020s. Opener "Glistener" sets the scene with hypnotic guitar patterns and an invitation to "lose yourself again," an act it can be all to easily to follow through with. Album standouts like "Cocoon" and "I Shimmer" balance a heavy emotional weight with warm, shoegaze-y guitars and radiant, sun-soaked vocals alive with passion and desire.
Rachel open up my head
There's nothing left
But I'm smiling anyway
Sunshine forever never mind
Some days you find
There's a light that guides the way
Nothing can stop me
I'll be away with the birds
Someday we'll make it
Flying away with her
I shimmer through the day
I shimmer through the day
– "I Shimmer," Jadu Heart
"It's a record about optimism, mental health, psychedelic ideas. Mainly about struggling over the hurdles many of us face," Jeffrey tells Atwood Magazine. "I think we originally made quite a dark sounding album and realised that we didn't want to listen to that. We are tired of this feeling of negativity, sadness and anxiety we've had following us around for years and want to put something back into the world that's (relatively) positive. There's enough horrible shit in this world. The first half of a lot of the songs were written in that time when we started reevaluating our own lives, and then in the second half, they turned from this hopelessness to hopefulness."
The album title references a mental health condition called derealisation, something people can experience in a few different ways," she explains. "Alex had a very visually warped perception disorder when he was 18 from way too much psychedelics, and I experienced depersonalisation through depression in my late teens and early 20s. We wouldn't talk about it much to other people as at the time we were scared people thought it sounded like we were very unwell (which we were), and people's knowledge of that would make it worse. Since the pandemic people are a lot more conversational about mental health, so it felt like the right time to talk about these things."
---
I would watch you drown,
told you I would burn you to the ground
But that's the price I pay,
cruelty with purpose ain't no game,
(I'm sorry if it's true) I take it out on you…
If I was innocent,
then I would be a liar anyway
So burn me at the stake,
and chop me up and feed me to the birds
Listen to how they sing…
And when you walk away I feel that shame
And when I turn away, you feel that shame
I take it out on you… I put that blame on you…
– "Blame," Jadu Heart
In being so open about their experience and brutally honest with their emotions, Jadu Heart have created one of the most intimate, raw, and vulnerable records of the decade.
While much of the album dwells in considerably dark spaces, the music itself never feels overwhelming or hopeless; there's always a ray of light, even a faint one, shining through every song. Whether they're literally tracking life's highs and lows (as on "Cocoon" and "Blame"), confronting their own trauma and mental health struggles head-on (as in "Webs" and "Derealisation"), basking in the "Freedom" of a momentary respite and escape, embracing love and what it means to have someone with you as you make your way through a world of chaos (as in "You.Are"), or coming to a place of acceptance with the way things are ("There Is No Door" and "Sway"), Jadu Heart inspire us to look up; to believe in ourselves even when we're at our worst.
"Lots of my favourite lyrics are in this album, but probably for me the whole of "There Is No Door" is one of the most psychedelic concepts for a song ever," Jeffrey says. "It borders on the scary if you fathom what we're talking about – and that's a bit intense – but also it's something pretty cool to connect to. I always thought of us almost like outsider artists working through some pretty heavy mental health issues."
---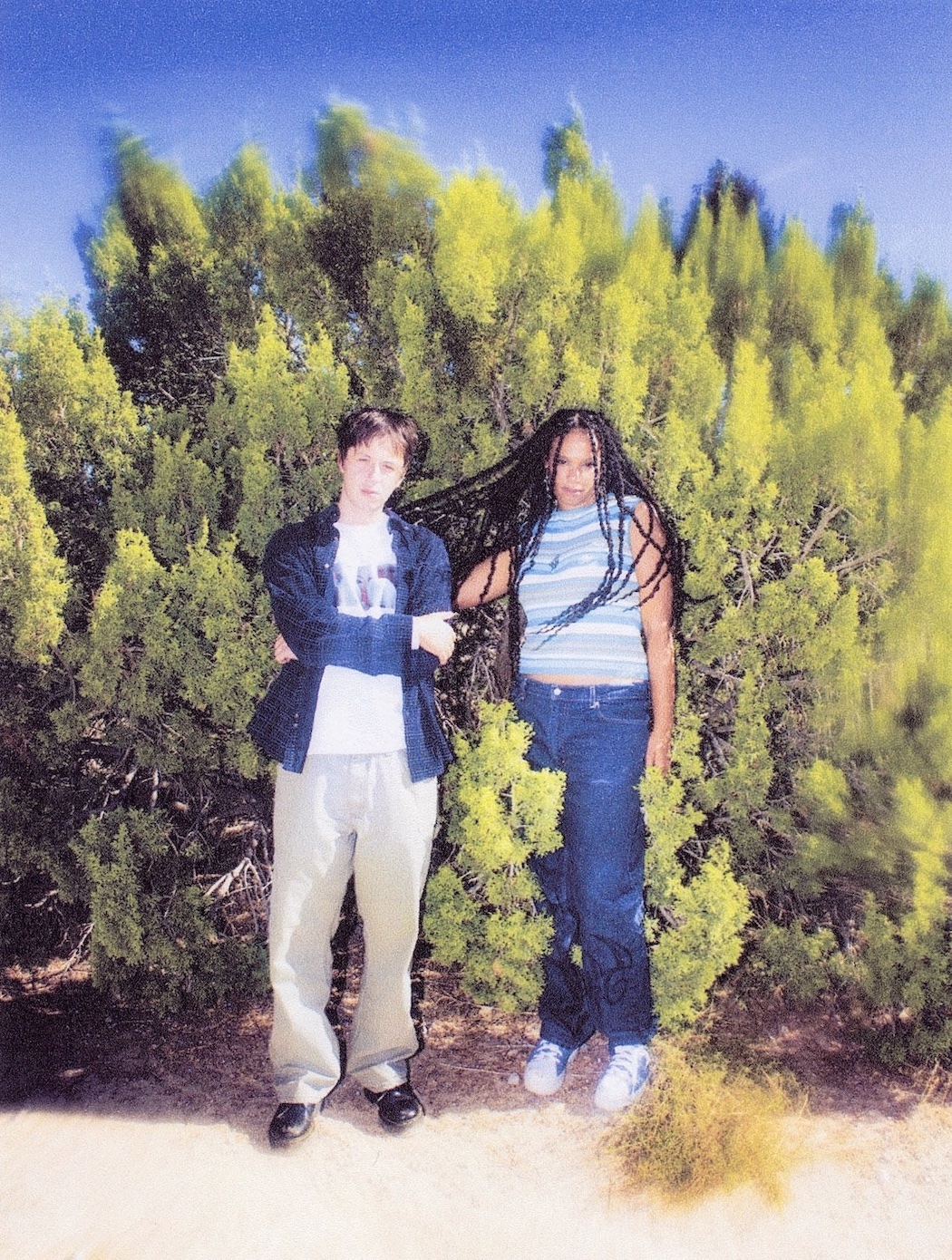 For both of Jadu Heart's band members, writing and recording Derealisation was therapy in itself.
"I found something sacred in that time that I can bring forwards into my life now," Alex Headford says. "There's a peacefulness now about a lot of stuff that really used to freak me out."
If making this album was the closure Headford and Jeffrey needed to put the pin in one chapter of their lives and begin writing the next one, perhaps listening to this album can be an equally therapeutic experience for the rest of us. They hope listeners take away a sense of "hope and optimism" from these songs – "a feeling that there's people who understand what you're going through if you're going through it, and if you're not, then something vibey and fun to enjoy!"
There's no sugarcoating pain and glossing over trauma here; the raw, dark depths are revealed for all of us to see, hear, and feel. Jadu Heart let themselves dive deep, and out of their own honesty and vulnerability, they created something of timeless beauty. Experience the full record via our below stream, and peek inside Jadu Heart's Derealised with Atwood Magazine as the duo take us track-by-track through the music and lyrics of their third album!
Sunday hiding, feel I'm dying
Where the grass don't grow
Call my brother, don't tell mother
Separated, I'm gone
'Cause I don't need no sympathy
The devil's on my side
So meet me by the warm desire
Calms you through your bones
Don't let go now…
Don't let go now, you're not alone
Adolescent, panic ridden
Hiding in my room
Separated, mind racing
Slowly learned to bloom
'Cause I don't need no sympathy
The devil's on my side
The time spent vacant
Something sacred
Brought me back to life
Don't let go now…
Don't let go now, you're not alone
– "Derealisation," Jadu Heart
— —
Stream: 'Derealised' – Jadu Heart
:: Inside Derealised ::
— —
Glistener
The album opener. Introduces you to the feeling we're conveying, "Lose yourself again."
Cocoon 
Probably the most encompassing track on the album, it embodies the feeling of major highs and lows and smashes them together into a song that takes you through it.
Blame 
Classic Jadu love battle, we're both very honest about our relationship highs and lows (and even wrote a whole album about arguing [Hyper Romance]) and this is one of them tracks.
Freedom 
Probably the most pop on the record but that's cool, it's about escaping the constant bombarding of modern life and experience in your face all the time, but it could mean many things to many people.
There Is No Door
A song we made purely for late night festival crowds, we've referenced Huxley in our albums before and this is no different. I (Alex) was very mentally unstable when he was younger from psychedelics, and Huxley's writing in the 'Doors' in many ways didn't help. But over time we have accepted and moved on and feel in control of the weirdness of all those psychedelic concepts. The world is bizarre, and having your girlfriend sing a song about how that's okay was very comforting for me.
I Shimmer
Just like sunlight.
8 x 8 Endless
The universe is infinite, right?
Sway
Quite a self explanatory song about acceptance and the power that can come from the right support around you.
You.Are
You Are is a love song in the echos of alternative love songs in genres you wouldn't expect. It's kinda just two people telling each other they have each others back whilst making their way through a world of chaos. Not all love songs have to be cheesy or even romantic; they can be dark and intense and trippy.
The Glass Box Between Me and You
A track from the perspective of someone who's lost in their own world and how hard it can be to connect to those around you.
Webs
This song confronts looking at trauma or mental health passed down through generations and how two people can help each other break those webs and build new foundations to live by. 'We can build new threads'.
Derealisation
A song Alex wrote talking to his younger self when he was going through some serious stuff, it's supposed to be a comfort but it does have a dark edge to it, but that's probably just because most things that confront experiences like this end up having a heavy feel.
— —
— — — —
📸 © Jaxon Left
:: Stream Jadu Heart ::
---