joan's freshly released debut album 'superglue' is a grooving journey influenced by the Little Rock, Arkansas pop/rock duo's recent introductions to fatherhood.
Stream: 'superglue' – joan
---
When Arkansas pop/rock duo joan – 15 seconds into their bouncy "feeling like dancing," taken off their new album superglue – mention "a Peter Gabriel song," you know their taste is rich in musical treasures.
After millions of streams of their previously released tracks, joan's 2023 full-length debut, superglue is out now. Released April 19th via Photo Finish Records, superglue is a grooving journey influenced by the duo's recent introductions to fatherhood.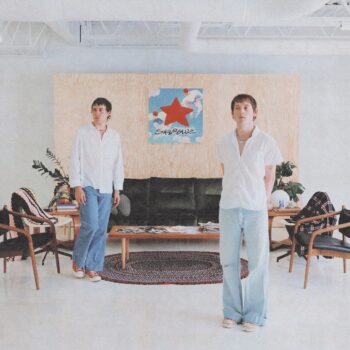 Creating music in their middle America bedrooms, joan's infectious blend of rock and pop and deep connection with their fans has resulted in previous international success, with over 150 million streams and sold out shows across the globe, including headlining 15,000+ capacity venues in Asia. In support of their new album, joan are touring the US this summer.
Active for over six years now, the Little Rock, Arkansas duo is comprised of longtime friends Alan Benjamin Thomas and Steven Rutherford. They create pop music without turning up the guitars or synths and without sticking to a formula. Their emotive vocals are clean yet powerfully rocking and lyrical.
"We love any music that is accessible to everybody," Thomas says. "It doesn't matter if you grew up on country, rock, rap, pop, or polka, a great melody will make you feeling something."
Both Thomas and Rutherford attended the small college of Ouachita Baptist University in rural Arkansas – though at different times. Their bands, however, often shared bills before they eventually got together "to write and see what happens."
"We naturally felt comfortable in the world of love songs," Rutherford tells Atwood Magazine. "This time, we were like, 'Let's get more personal.' We both had babies in the past year. We've grown more than we have in a long time. It's so cool watching your baby crawl for the first time and see the world. It organically informed the writing. The whole body of work is so personal—like we're giving a piece of ourselves to listeners. It's by far the most special thing we've done."
Palm-muted guitar and organic beatboxed percussion creak underneath anxiously catchy vocals on "Nervous." "It's about the first time you see someone, and you want to make a move, but you can't get yourself to do it."
"It's the internal struggle of impostor syndrome," Thomas elaborates. "You ask, 'Am I really who I think I am? If I disappear tomorrow, will any of these people care?' I still feel that. In the band, we both feel like we don't fit in here, but we're here together."
Feel like I'm in high school
Tripping over my shoes
Starting to sweat
Now I'm checking my breath (Ah)
I don't know if you notice
You're my singular focus
So stuck in my head, I wish I cared less
It's not like me to bite my tongue
And hold back
But something keeps on getting in the way
(Two, three, 'cause)
You make me nervous and now I'm slurring my words
And it's like you do it on purpose and I…
Twist the chain on my necklace
Try not to throw up my breakfast
And I'm obsеssively trying to hide
You make mе na-na, nervous
---
The title track "superglue" speaks to their fatherly bond with one of the most powerful, poignant, and poetic moments on the record. "As new dads, we were like, 'What if we wrote this about our girls?'" recalls Thomas. "We want them to know we're superglue for them."
"I truly believe superglue has something for everyone," Rutherford concludes. "Hopefully, everybody in the entire world can hear it… not a hard task," he laughs.
Oh, you will never understand that
I'm completely lost in you
Carve it in the pavement
Every little thing you do
Oh, it's you
Flower in my garden
I can't wait to watch you bloom
Well I'm a million pieces
Darling you're the superglue
Oh-oh, it's always you
– "superglue," joan
— —
joan U.S. 2023 Tour Dates
May 13 – The Masquerade (Hell Stage): Atlanta, GA
May 14 – The Basement East: Nashville, TN
May 16 – Music Hall of Williamsburg, Brooklyn, NY
May 17: The Lounge @ World Cafe: Philadelphia, PA
May 19 – The Black Cat: Washington DC
May 20 – The Sinclair: Boston, MA
May 23 – The Velvet Underground, Toronto, ON
May 25 – Subterranean: Chicago, IL
May 31 – Parish: Austin, TX
June 1 – Club Dada: Dallas, TX
June 3 – Valley Bar: Phoenix, AZ
June 4 – Voodoo Room @ HOB: San Diego, CA
June 6 – Constellation Room: Santa Ana, CA
June 7 – Teragram Ballroom: Los Angeles, CA
June 8 – Popscene @ Rickshaw Shop: San Francisco, CA
June 10 – Polaris Hall: Portland, OR
June 11 – Barboza: Seattle, WA
June 13 – Soundwell: Salt Lake City, UT
June 14 – Larimer Lounge: Denver, CO
June 15 – Resonant Head, Oklahoma City, OK
June 16 – Little Rock Music Hall: Little Rock, AR
— — — —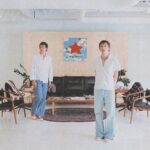 📸 © Jacob Ruth
:: Stream joan ::
---