Whyte Fang, Alison Wonderland's shadowy alter ego, saw her streaming numbers swell in the wake of her breakout Coachella debut.
After her show-stealing Coachella debut, Whyte Fang is in the midst of a bona fide breakout.
The proof is in the pudding. And it's in Coachella, the DNA of which intrinsically explodes the music of its artists far beyond the confines of its stages.
The alias of electronic music superstar Alison Wonderland, Whyte Fang stunned the Coachella faithful on April 14th, performing an electrifying DJ set from inside a giant LED cage. Fang, who is currently eight months pregnant, had released her debut album GENESIS the same day.
But even before the stunning performance, the album's streaming numbers skyrocketed. According to Spotify, Whyte Fang saw her streams swell by a staggering 2000%.
Streams of music by Frank Ocean increased 70% on Friday ahead of his controversial headlining Sunday performance, which rankled fans and critics. Meanwhile, streams of Calvin Harris' "Slide" mushroomed at a 135% clip. Harris' performance also doubled as a tribute to Migos rapper Takeoff, who passed away at the age of 28 last year.
BLACKPINK, who headlined on Saturday, saw a 70% spike in streams. Other Coachella performers who experienced a boon include Dominic Fike (190%), Idris Elba (62%) and blink-182 (61%).
Over 365,000 fan-generated Coachella playlists were created on Spotify this year, according to the streaming giant. These playlists have been streamed over 10 million times so far.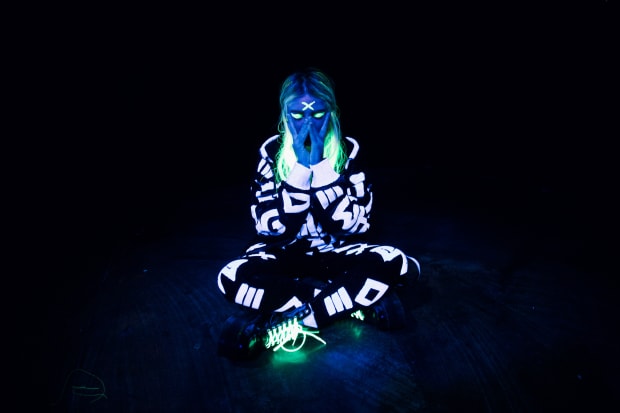 We caught up with Whyte Fang in late 2022 for her first-ever interview to discuss the shadowy alias, which had been dormant for over a decade.
"I really, really want this to be focused on the music," she said at the time. "I'm so performative with Alison and I fucking love it, but I just really wanted [Whyte Fang] to be an art piece. I didn't want it to be about me… I'm just trying to let the art speak for itself without me having to frontwoman it. Because I'm not singing, there's no lyrics. It's about whatever the hell came out of my brain. It's purely beats. It's very primal."
Coachella Weekend 2 is now underway. You can livestream the festival here.
FOLLOW WHYTE FANG:
Facebook: facebook.com/thewhytefang
Twitter: twitter.com/thewhytefang
Instagram: instagram.com/thewhytefang
Spotify: spoti.fi/3mGQQtP